The "Thought Catchers"

How to Download the Worksheets 
You can easily download a single worksheet or a folder of worksheets for any section.  Then they are yours and they are confidential.  If you like, you can then upload them to your Google Drive (you can't upload them directly from the site because of ownership issues).  You can also download a worksheet that is embedded in any part of the site.
Start by opening the file above – Worksheets
Different browsers will show you different ways to download the worksheets, but they are all very straightforward.
For example, if you use Chrome and want to download a folder of worksheets, it will look like this: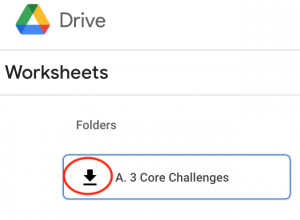 Or – if you are using Safari and want to download a single worksheet, you can click on a folder such as C. What to D0 – Managing the Journey and highlight any single worksheet you want to download and click on Download in the drop-down.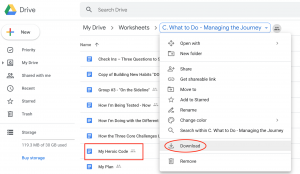 Notes
There are worksheets for each of the four main sections – and you can make up your own.
The 3 Core Challenges – Identity, Relationships and  Competencies
What to Expect on Your Journey
What to Do About it – Managing Your Journey
"Specials" – some of the topics have worksheets
Animations.  A lot of the "thought catchers" have 3-5 minute animations that show examples of teenagers capturing thoughts on specific topics.  Those are embedded in the text by the worksheets.
The worksheets are not designed to be "finished" in one sitting.  They are designed so that you can capture and save your thoughts as you have them.  That way you can follow your interest and make notes as you go – and always be able to come back to your saved thoughts.  No one will have access to your work unless you give them access.