You are Tested on Five Levels
---
The Tests & Challenges Come on Five Levels
Physical Tests

Intellectual Tests

Emotional Tests

Social Tests

Spiritual tests
This is one reason that being a teenager can be so difficult.  You are tested intellectually, emotionally, physically, socially and spiritually.  It's how you grow and mature, but that's a lot of testing and it can be confusing and daunting.  It can also be exciting and rewarding. 
Sometimes you are tested on one or two of these levels and sometimes on other levels.  Over time, you will be tested and will grow on all five levels, but growth can be uneven and sometimes it's rapid and sometimes it seems to take forever.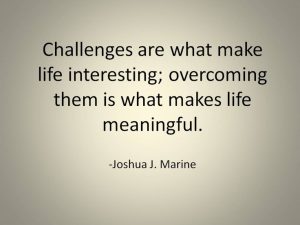 Physical Tests

 

Physical tests range from dealing with stress and the physical requirements of a sport to dealing with the development of male and female physical traits.  Early or late development can be a cause of worry and distress.  

Physical tests can also relate to getting enough sleep, eating well, and getting regular exercise.  And physical tests can relate to injuries, illnesses and the physical aspects of depression or anxiety.

Intellectual Tests

These include not only course content in school, but also developing new ways of understanding the world – from what's going on in your school and family to how to understand what goes on in your neighborhood or at a global level.  There is also a wide range of competencies to be developed beyond school – relationship skills, self-management, and job or volunteer skills, etc.

Emotional Tests

These tests range from those that come with maturity and the changes in your body that naturally happen to becoming skilled at sports or dance or other physical activities.  Physical challenges can also include maintaining health or recovering from injuries, abuse or major or chronic illness.  One complicating factor is that people mature physically at different rates, so if you mature later than others (not a problem longer term), some of the physical tests can be tougher in early teen years.

Social Tests

These can seem to be constant as you figure out how to establish deeper peer relationships, fit into groups, form boyfriend/girlfriend relationships and deal with changing family relationships.  There can be a tendency to avoid some of these tests, but that needs to be resisted.  Working directly on these tests is key – both skill development and having others to share the struggles with.

Spiritual Tests

Spiritual tests can range from awakening spiritually and forming beliefs to challenging beliefs you have had.  Lots of teenagers experiment with different religions and spiritual paths because these are big and often mysterious issues.  Doubting and challenging is part of the process of developing an authentic commitment to a particular religion or spiritual path.